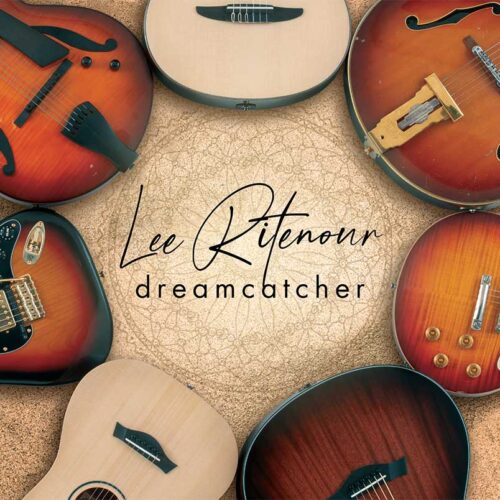 Lee Ritenour

dreamcatcher


Mascot Label Group (Worldwide) and Yamaha Music Communications Co. LTD/Yamaha Music Foundation (Japan) (2020)
Tracklist
01. dreamcatcher 4:22
02. charleston 4:16
03. the lighthouse 4:55
04. morning glory jam 4:28
05. starlight 4:01
06. abbot kinney 3:13
07. couldn't help myself 4:30
08. for dg 4:47
09. via verde 3:14
10. low & slow 3:25
11. storyteller 2:41
12. 2020 9:14 (Part 1 4:08 / Part 2 3:06 / Part 3. 2:00)
Personnel
Produced, arranged, composed and recorded by: Lee Ritenour (for Captain Fingers Productions)
Notes
Recorded at: MDR Studios (2020)
Mixed by: Don Murray and Lee Ritenour at Reed's Room Studio and MDR Studios.
Mastered by Eric Boulanger at The Bakery Mastering (Sony Studios).
Cover art concept: Lee Ritenour
Cover art and packaging design: Karina Rubira and Roy Koch
Photography: Alessandro Solca
Production Manager: Gary Lee
Production Assistant & Music Transcriptions: Brian McShea
Additional Music Transcription: Gary Lee
Guitar tech: Matt Bradford
Dreamcatcher
captured my reflections through my songs and the guitar… A "solo guitar" album is one I have never done… ever. And after working on so many album projects, "Dreamcatcher" was unique, challenging, and very inspiring, especially this year.
I love the guitar, composing, performing and making records… I started playing guitar when I was 8 years old in 1960…60 years ago.:) So there it is… the beauty of doing something that you love, and that keeps pushing you to try to do it a little bit better, all the time.
The opening song, Dreamcatcher opens with a quote from another tune, "Waltz for Carmen". She is most certainly my Dreamcatcher.
This song is recorded with 2 Yamaha NCX5's.
Charleston
A few years ago, I was on tour in the U.S. and played a concert in Charleston, South Carolina to a diverse and soulful audience famous for its southern hospitality and charm. I ended up writing this tune that was inspired from the rhythmic, melodic, country and jazz flavors that I felt there. In 2020, the inequalities in America still rage on and the struggle is still very real and present. I dedicate this song to BLM and that struggle that South Carolina knows so well. This was a year of profound challenges, hardships, and loss. But it was also an incredible example of how small the world is and that ultimately we're all in this together. That's what inspired me that night in Charleston.
The Lighthouse
Is the legendary jazz club in Hermosa Beach, CA that I lived nearby and frequented often growing up. I first heard some of the great jazz players when I was in my early teens at The Lighthouse, including:
Wes Montgomery,
Kenny Burrell,
Joe Pass,
Cannonball Adderley, Freddie Hubbard
and many others.
It made a permanent impression and came back to me when I was writing this tune on my Gibson '49 L5.
Morning Glory Jam
Is one of my earliest tunes from 1977 (!) and renamed for the 4 guitars 'jamming' some slow groove rhythm parts on the back half of the tune.
All of this recorded on my Sadowsky SS-15 guitar.
Starlight
Starlight Studio was the name of my recording studio that I first built in 1984.
This was the last song composed at Starlight Studio in late 2018 before the Southern California Woolsey Fire decided it was time… Performed on my Taylor Baritone guitar.
Abbot Kinney
If you got a jolt when this song started, so did I! When everything shut down around the world in late March, 2020, I took a bike ride around Venice, CA. over to one of the busiest, most popular streets in all of Southern California, Abbot Kinney. Normally jammed with people and cool shops and restaurants, on that day it was completely and utterly empty. I stopped and reflected that this was happening all over the world.
As this reality was sadly setting in, suddenly upstairs, above a store, someone was jamming on the guitar, rocking away on 10. The sound was loud, bouncing up and down Abbot Kinney. It was very cool and inspiring and a big smile came over me. I came home and couldn't get that image and sound out of my head. Rock on and thanks for the inspiration! Recorded on my Gibson Les Paul.
Couldn't Help Myself
This project started out as a solo guitar album, meaning SOLO. But as I kept recording, I couldn't help but have some fun with the Boss SY-1000 guitar synth, Xotic XSC3 electric, Gibson Les Paul, Yamaha NCX 5, and Taylor hi-strung guitar. I ended up with about 20 different guitar tracks on Logic Pro with different sounds and orchestrations jammin' together.
For DG
Going stronger than ever, that would be pianist, composer, Dave Grusin – my lifetime collaborator and best bud. I met Dave when I was 19 and have seen him in just about every musical environment from producing pop/R&B hits, to his Academy Award-winning movie scores, to jazz and classical collaborations. As I was arranging and orchestrating a number of these new tunes for the guitar, I thought of Dave, reharmonizing melodies to enhance a song. This one is on my Sadowsky SS-15.